Disclaimer
PRIVACY AND DATA PROTECTION
About Kedal Resources Limited
Kedal Resources Limited was established in August 2013.  The core of the business is the provision of recruitment/resource placement in leading Irish and Multi Nationals organisations.
Privacy Policy – Outline
Great care has been taken in the preparation and publication of the contents of Kedal Resources Limited privacy policy. Kedal Resources Limited does not assume legal or other liability for any inaccuracy, mistake, misstatement, or any other errors contained herein. Users of the Kedal Resources website are advised to verify, by direct contact with Kedal Resources any information on which they may wish to rely. Kedal Resources has endeavoured to attribute copyright or other intellectual rights to the rightful owners where such course has been appropriate. Where any attribution has been missed or overlooked Kedal Resources will take appropriate action on the oversight.
Kedal Resources Limited processes data on the basis of consent and legitimate interest. Kedal Resources Limited is accountable for the data it collects and holds about individuals and demonstrates compliance in the way we collect, store, and use personal data. When storing data, Kedal Resources Limited ensures that it is kept in a confidential and secure fashion and that personal data is not disclosed in an improper or unprofessional way.
Kedal Resources Recruitment's systems are designed to ensure the highest standards of data security. This includes information held concerning candidates, clients, and internal staff.
Kedal Resources Limited privacy policy aims to encompass the provisions and principles within the General Data Protection Regulation (GDPR) and other relevant legislation around data protection. Legislation around data protection is designed to protect individuals whose information is being stored or entered into systems, whether it be computer-based storage and software or physical files. GDPR sets standards for how data is to be collected, on its relevance and accuracy, and how it is divulged or shared with others.
Kedal Resources Limited may update this policy at any time, and any alterations shall be effective immediately upon posting of the modified policy.
Staff Awareness
All Kedal Resources Limited employees are aware of, the basics of data protection and privacy. By raising staff awareness, compliance with GDPR can be maintained and risks minimised.
Who collects personal data?
Data will be collected by Kedal Resources Limited to provide recruitment services and/or intermediary services. This data may be shared with third parties if consent has been given to do so by the data subject.
What information does Kedal Resources Limited collect?
Kedal Resources Limited collects data about individuals in several ways depending on their engagement with us. GDPR broadens the definition of personal and sensitive data.
Kedal Resources Limited may collect:
Non-Personal Data: non-identifiable data such as anonymous IP addresses that cannot be used to identify individuals
Personal data: names, addresses and other contact information such as email addresses and telephone numbers
Sensitive data: such as, employment references
Kedal Resources Limited may anonymise the data we hold and collect to maintain the integrity of services provided.
Candidate and client data is collected and used for the sole purpose of providing employment services. Candidate data will only be disclosed to prospective employers with prior approval and consent.
How does Kedal Resources Limited collect data?
Kedal Resources Limited generally collects data directly from individuals and clients:
When a CV or application is submitted
When information is submitted by an individual in connection with a job opportunity or workshop, or open day event
When it is freely given in person, over the telephone, by letter, fax, or email and via the website
When recruitment services are provided to client companies
Kedal Resources Limited may collect data from third parties for vetting and verification purposes. This data may be obtained in the form of:
Employment references or letters
Visas and immigration documents
Results of enquiries from former employers or engagers, work colleagues, professional associations or registration bodies
Performance feedback
Any information about workplace accidents
Any information about investigations, litigations, registrations, professional disciplinary matters, criminal matters, inquests or inquiries
Why does Kedal Resources Limited collect this data?
Kedal Resources Limited collects information in order to understand an individual's needs and provide:
Recruitment and job seeking services that have been requested
Information to clients about candidates for specific job opportunities
Services to clients which have been requested such as references, and qualification verifications
Kedal Resources Limited may disclose and use your personal data to:
Match your details against job vacancies, which we believe may be appropriate for you
To apply for jobs on your behalf by sending your data to clients
To allow you to submit your CV, to apply for specific jobs or alert by email if specific jobs/roles become available
To market our recruitment services to you across all areas of our business
To inform you about any relevant industry developments, send you details of any events, promotions and competitions, and to communicate any other relevant information;
To answer your enquiries or questions;
For other purposes for which you have engaged with Kedal Resources Limited
Who does Kedal Resources Limited share candidate data with?
Kedal Resources Limited may share data with:
Verification services/visa services/licencing bodies/government bodies
Third party company responsible for Payroll, VAT and invoicing services
How does Kedal Resources Limited share data?
Kedal Resources Limited shares data via:
Email and other electronic means e.g. portable storage devices
By post/courier
In hardcopy form
Verbally, as appropriate
Consent
In order to collect, store, and use data Kedal Resources Limited requires individuals to agree and consent to its privacy policy. Individuals are to always be have ease of access to this privacy policy.
Various levels of consent are required through different stages of the recruitment process.
Consent is defined as:
''…any freely given, specific, informed and unambiguous indication of the data subject's wishes by which he or she, by a statement or by a clear affirmative action, signifies agreement to the processing of personal data relating to him or her.''
Kedal Resources Limited will provide individuals with a clear explanation of the consent mechanisms in place, and be clear that their consent is:
Of a voluntary nature
Able to be withdrawn easily
Not taken by silence or inactivity
Taken only when the subject has been provided with sufficient information to enable them to understand what they are consenting to
Unambiguous
Obtained as a lawful basis for processing personal data
Consent for data collection may be obtained by:
Notification of data collection upon visiting the Kedal Resources Limited website in the form of a cookie and website policy that individuals can choose to agree with
Written consent such as a candidate signing a 'Permission to Disclose Personal Data' form
In-person e.g. if an individual attends a workshop or open-day
Electronic means at various stages of the recruitment process e.g. email
Kedal Resources Limited consent mechanisms are reviewed on a regular basis.
Access
Any subject that Kedal Resources holds information on may request for the erasion, rectification, and restriction of their personal data. Requests can be made formally in writing to the Kedal Resources. Individuals Kedal Resources Limited holds information on are able to make portability requests to have their data transmitted to another controller. Access requests will be responded to within a 30-day timeframe or less. Kedal Resources Limited has grounds to refuse access requests if it can demonstrate that they are manifestly unfounded or excessive. Kedal Resources Limited ensures that these requests are authenticated and secure.
Kedal Resources privacy policy can be accessed by:
All Kedal Resources staff email signatures contain links to Kedal Resources privacy policy
A link to the privacy policy is on the footer of each page of the website
Individuals can request to be sent a copy of the policy (via post, email, or in hardcopy form)
Kedal Resources staff have access to the policy on the server, and in hardcopy form in the office
Data Accuracy
Kedal Resources Limited takes reasonable steps to ensure that personal data is accurate, complete, and up to date. Kedal Resources may also contact individuals from time to time to check whether their details have changed. If Kedal Resources is unable to confirm that the personal data it holds about an individual or client is accurate, complete, and up to date, it will be purged from the system. We encourage individuals to stay in touch, and update their details with us on a regular basis in order to receive the best service from us.
Data Breaches
Kedal Resources Limited treats all data breaches seriously and has step-by-step procedures that are followed in the instance of a data breach occurring. Serious breaches are to be reported to the Data Protection Office of Ireland and investigated within 72 hours. If a data subject is at a higher risk of a data breach (e.g. transmitting data to a third country), they will be informed of such risks. A record of all data breaches is maintained.
Information Security
Kedal Resources Limited holds personal data in a combination of secure computer storage facilities including our server, and in paper-based files.
Kedal Resources Limited has security procedures in place, including technological features, to protect the data we hold from misuse, loss, and unauthorised access, modification or disclosure. Kedal Resources Limited uses a reputable and GDPR-complaint external company to safely and securely shred paper records.
While all precautions are taken, information received via the internet cannot be guaranteed as secure. Any submission of information to Kedal Resources by this means is at the data subject's own risk. Kedal Resources will utilise security features once data has been transmitted successfully.
Cookies and other websites
Cookies are small amounts of information, which Kedal Resources stores on your computer. They allow us to monitor website traffic, and to personalise the content of the website for you.
Most browsers allow you to turn off cookies. If you want to know how to do this, please look at the help menu on your browser.
Clicking on links and banner advertisements and RSS feeds may result in your transfer to another website, where data privacy practices may be different to that of Kedal Resources Limited. It is your responsibility to familiarise yourself with these privacy policies as Kedal Resources Limited accepts no responsibility for, and has no control over, other websites or any information or data collected by, or for them.
Option to Unsubscribe
You may at any point chose to unsubscribe from receiving marketing material and job opportunities sent by Kedal Resources by:
Email 

[email protected]

Replying to an email you have received from us with the words 'No More Information'
Calling into our office on 0876815787
Please note that unsubscribing from marketing and promotional emails does not remove your record from our systems. This is a separate request. If you wish to exercise this, please send us a request in writing and we will respond accordingly. Right to be Forgotten requests can be sent via:
Post:
Kedal Resources Limited
Unit 9,
Block C,
Cashel Business Centre,
Cashel Road,
Dublin 12
Email:
To your individual recruiter's email address, [email protected]
Data Stotage
Data is held in Ireland using a single secure server.
Kedal Resources Limited do not transfer date outside the EEA.
Retention Policy
We will process personal data during the duration of any contract and will continue to store only the personal data needed for the periods after the contract has expired to meet legal obligations as set out in the table below:  After these periods any personal data not needed will be deleted.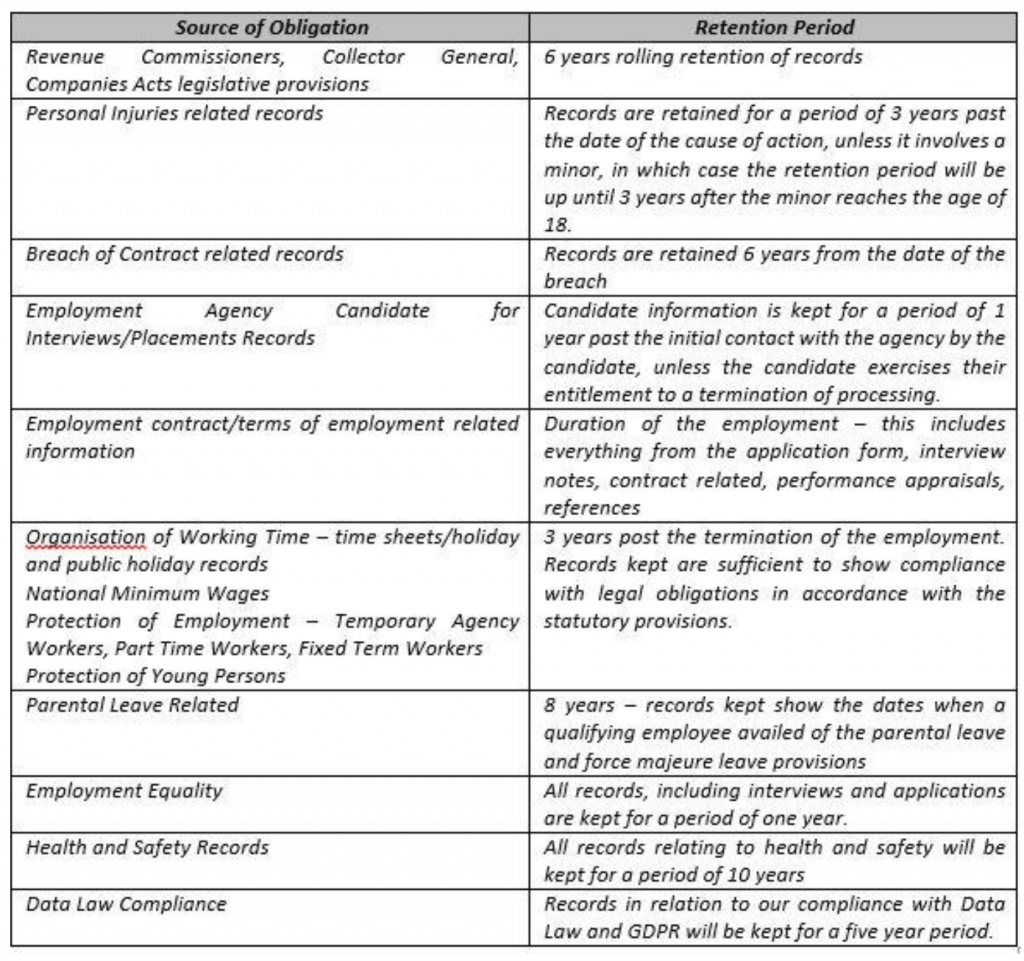 Contact
Want to update your details?
Have a question in regards to our Data Protection Policy?
Wish to make a complaint?
Please do not hesitate to get in touch. We aim to reply to all communications as soon as possible.
Kedal Resources Limited
Unit 9,
Block C,
Cashel Business Centre,
Cashel Road,
Dublin 12
Ireland
0876815787
[email protected]